Mongolian Yurt
A Yurt is a portable, felt-covered, wood lattice-framed dwelling structure traditionally used by Turkic and Mongolian nomads in the steppes of Central Asia. A yurt is more home-like than a tent in shape and build, with thicker walls. Traditional yurts consist of a circular wooden frame carrying a felt cover. We have adapted the yurts in Galway Glamping to the damp, cool Irish climate with the addition of wooden shielding. This makes a noticeable difference as each yurt is now drier, warmer & sturdier than before! There are nine 4-person yurts (one double bed & two singles in each) and two 6-person yurts (six singles in each) on site.
Cabins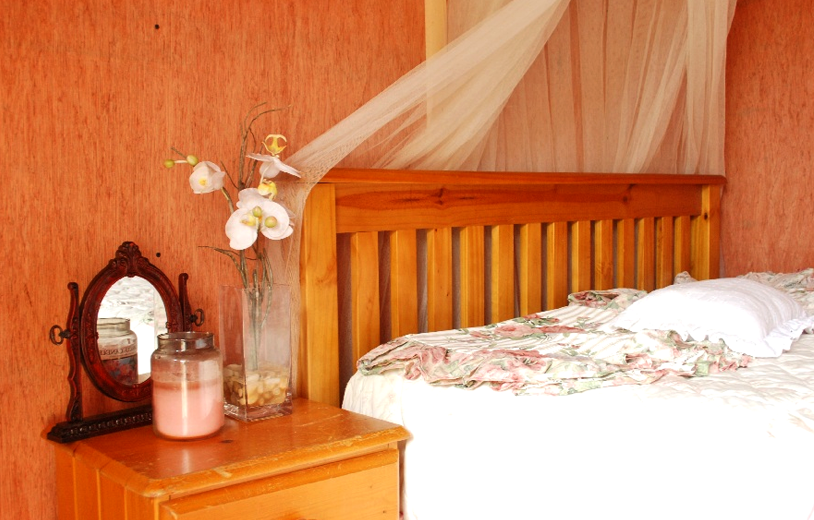 Our beautiful cabins are located in two social areas - three by the Sheebeen & one behind the Tower. The Sheebeen cabins, two with two single beds & one with one double bed, have two windows and a porch area and literally a stone's throw from the River Abbert. Guests who walk to
the old stone bridge can enjoy picturesque riverside views & the calming sounds of flowing water. The fourth cabin, with one single bed & a bunk bed, is located behind the 16th century towerhouse in the outdoor section of the Tower social area. Those staying here will always be close to the party!
The Barn
The Barn is beautifully renovated & decorated heritage building. This 18th century structure used to be one of the horse stables for the nearby Blake House, and still has the original beams on the upper level which we were able to salvage as an historic feature. This accommodation can sleep up to 10 people, with six single beds upstairs and one double bed & two single beds downstairs. An added benefit to The Barn is that there is an exclusive shower & toilet for those staying here. Just a word of warning, if you hear a horse's neigh it's probably a ghost!
The Lodge
People just love the verandah of The Lodge! This 8-person accommodation/mini-social area has eight single beds, and is perfect for smaller groups. For larger groups given this accommodation, the expanse between The Lodge & The Church is great for outdoor dining and as a bonfire area. It is also located right beside the walled garden, a large enclosed greenfield suitable for a wide range of outdoor games & activities. The Lodge lets you relax and unwind while sitting out on the verandah during those long summer evenings as the sun slowly sets over Brooklodge - a great way to let go of all your worries.



Please note that your party is likely to be provided with a varied accommodation allocation. The reason for this is to try & keep each guest near to their party and/or their social area.